My Life Currently ~ Works in Progress
Last Updated: December 2018
Keeping busy, exploring, and making.
In August of 2018 I moved to Baltimore, Maryland. I love it here. I spend many weekends back home in DC.
I am a first-year graduate student pursuing my MFA in Community Arts at Maryland Institute College of Art (MICA). My schedule is split between investigating the relationship between Artists + Art + Community, building relationships in Baltimore, exploring social justice issues and practices, gaining real-world experience working at my residency sites including Roberta's House & Access Art, as well as art making.
I am putting my social work background into practice through facilitation of groups, gaining a stronger awareness of resources to assist clients, and applying knowledge of multidisciplinary theoretical frameworks in the analysis of assessment data from clients.
Below is a small selection of works that I am currently exploring. Contact me if you would like to know more.
Experimental Collage Building, daily making exercises.
Retreat Space at Access Art, I am redesigning the cool down space with middle school youth at Access Art, an after school program. This space will be designed to provide youth with a comforting space where they can take time to themselves and practice self-care with guided activities and tools for relaxation. I am currently deep in the process of research, building relationships, and ideation.
For this project, I was matched with Paul Abowd, a documentary filmmaker. I interviewed Paul through a meaningful hour long conversation in his living room. We talked about his artistry, self-care, family and friendship, the importance of story-telling, and marriage.
I edited the interview down to a concise 3-5 minutes for this project. Paul's 2016 film, "Baltimore Rising," was nominated for an Emmy Award.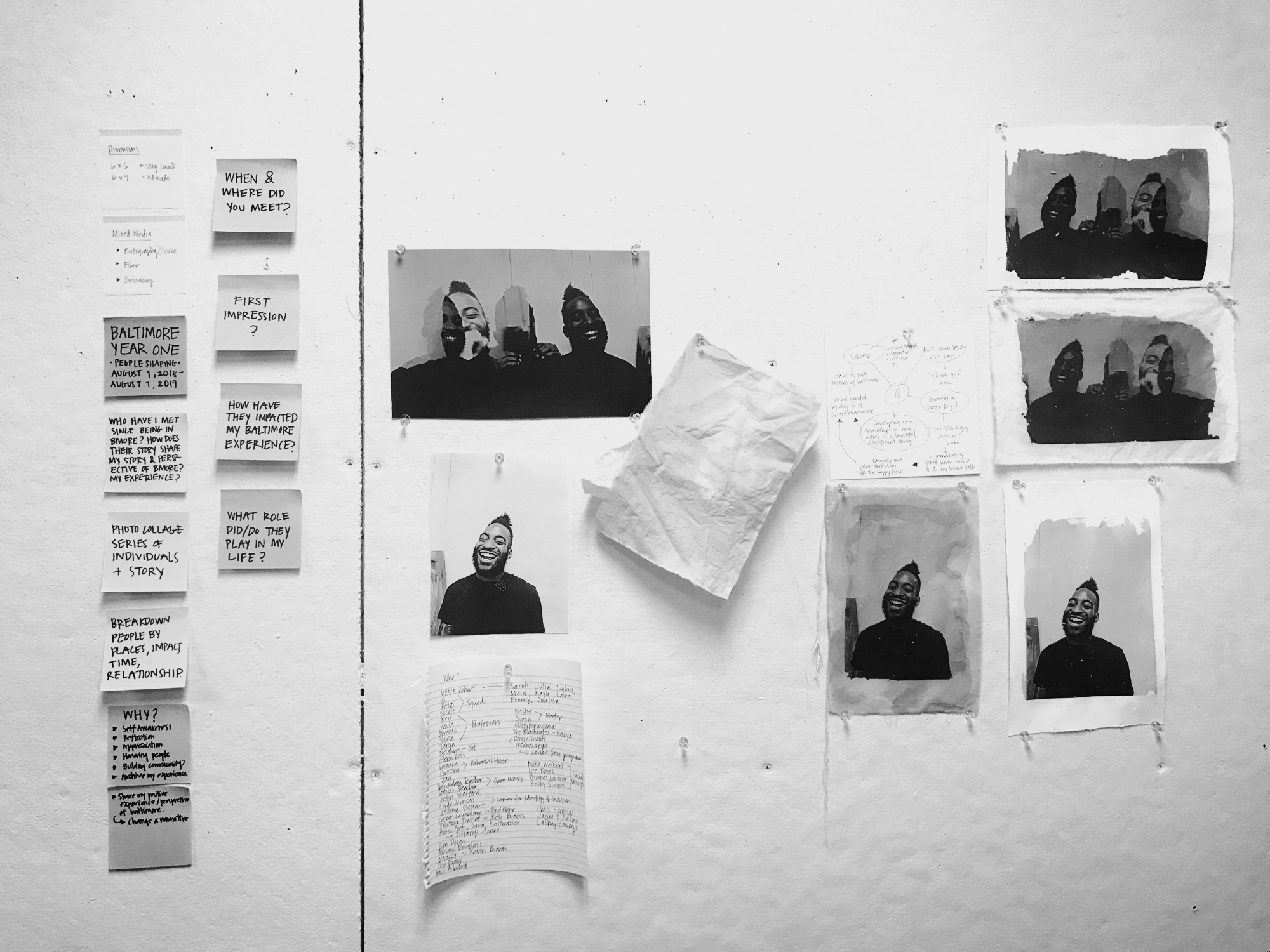 Year One, photo collage series. image + type.
(early stages)
Year One is a long-term project between August 1, 2018 (the day I moved to Baltimore) and August 1, 2019. Being prompted to create art about Baltimore by my program, I was inspired to begin a project from the lens of my personal experience. How have the people I have come across shaped my Baltimore experience? How does their story impact my story and my perspective of Baltimore?
Through this year long project, I will archive my experience, reflect and honor the people I have interacted with, while furthering to build those relationships and share the Baltimore I have come to love.
We Wear the Masks Project Reflection. fiber, acrylic paint, safety pins.
After viewing, "I Am Not Your Negro," a 2016 documentary film based on James' Baldwin's unfinished manuscript, "Remember This House," we were asked to create masks in response. These masks were to address the roles we play as individuals and/or society.
My mask is a reflection of the mask America wears. It touches on America's morals and the conflict that exists between what we actually are and what we pretend to be. Created in an inspired form of a book, my masks includes pages inside that are representative of diverse people, stories, people fighting for themselves and each other to put pieces back together for survival, layers of trauma, pain, violence, lies, beauty, and resilience. The inside is covered and hidden by white layers of fabric—representative of white washing, blindness, hypocrisy, and delusion.
In-Class Monoprints in Response to Prompts: What is Liberatory Education?
How has the brainwashing process of white supremacy impacted all of us and our art?
Plutocracy II Documentary Visual Response that synthesizes the documentary's content and timeline into something that holds meaning for myself.
Activities created for Holiday Hope at my residency site, Roberta's House. An evening event to support families and individuals with getting through the holidays while grieving. Activities inspired by the book, Grief is like a Snowflake.